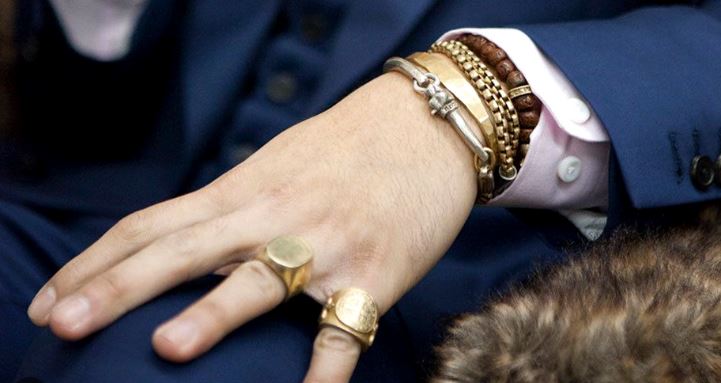 As a general understanding, most men do not wear jewelry. Furthermore, the reason for such is that most men will assume that jewelry is only reserved for women and not for 'real' men. 
Gentlemen, this is a false statement.
There is also nothing that is less attractive than a man who is not confident enough in his own masculinity to wear some jewelry. But of course, there are both right and wrong ways to wear your jewelry.
Ultimately, it all comes down to your confidence to pull it off the right way.
In this blog, I'll discuss the 7 mistakes that men will make when attempting to wear jewelry, and also the respective fixes for these mistakes.
1. Not having confidence when wearing jewelry

When it comes to men's fashion, I believe that there aren't many who are willing to push the boundaries. Fashion sense among men is based on safety and comfort, rather than truly expressing oneself aesthetically. All in all, it seems as though the root of the problem is a lack of confidence. Ironically, men are looked at as a symbol of confidence. Hence, it is crucial that a man should have his confidence in whatever he does, such as putting on jewelry and accessorizing one's self. 
If this is what describes your situation, you might want to start out with smaller, simpler pieces. As you get more comfortable and confident, you can gradually get more ornate and elaborate pieces that fit your aesthetic. 
2. Not being aware of your surroundings and environment

Make sure that you are aware of the environment you will be in when wearing your jewelry. It is very crucial that you dress for the occasion. Here are three examples of why this is such an important rule to remember.
Funerals

- Funerals are for people to mourn the death of a loved one, so one should remain respectful at such occasions. In other words, your jewelry should be subtle as it is not an event for you.

Work/Interview (professional setting)

- Always consult the dress code at your place of work or business and abide by it. Keeping your jewelry modest is your safest bet as you don't want to come across as unprofessional and pretentious…especially during an interview where you'll want to get on their good side.

School

- For students who attend a learning institution with a specific dress code, jewelry may also be limited. Dress codes for majors such as business, law, and political science will most likely submit to more strict guidelines for how one should dress.
3. Putting on too much jewelry

It is important to be aware of how much jewelry is appropriate to wear. As the old saying goes, "jewelry is the last thing you put on, but the first thing you see." 
To look your best, make sure to accessorize tastefully and in a way that complements your entire outfit. Avoid over-accessorizing, as this can detract from your look. 
Keep in mind that less is often more.
It's also important to consider the specific outfit and occasion. Some types of jewelry may be more appropriate in certain settings. For example, wearing earrings with a suit may not be traditional, but it may be acceptable in a casual setting.
4. Not having a balance with the jewelry
Wearing jewelry that is unbalanced is similar to wearing too many accessories as it can make one side or area of the body stand out too much. 
For example, a common mistake that men make is layering multiple necklaces, which creates an unbalanced look and makes the jewelry the main focus of the outfit, rather than the entire ensemble. Additionally, layering necklaces can make the neck area look cluttered and overcrowded. This is not the correct way to style necklaces.
Another instance of unbalanced jewelry is wearing watches and bracelets. If you prefer small watches, it is not recommended to wear large bracelets on the same wrist, as it will create an uneven appearance and distract from the overall look. 
It's important to ensure that all accessories work together in harmony. 
To avoid an unbalanced look, it's suggested to make sure that the metals used do match each other. For example, if you're wearing a two-tone bracelet watch, complement it with other accessories that feature the same dominant metal.
5. Not choosing the best jewelry pieces for your skin tone

We all have our own undertones in our skin, which also means there are certain metals and textiles that'll work best with each type of tone. You can determine what looks best by trying on different pieces of jewelry. Nevertheless, we have our own guideline for you so you can save some time and energy.
First, look at your skin in natural light and find an area where veins are visible.
(We recommend looking at your wrists)
Blue or purple veins: cool skin tone
Green veins: warm skin tone
Blue, green, and purple veins: neutral skin tone
Once you've determined your undertones, it should be easy to match the corresponding metal with your skin.
Cool skin tones: white gold, platinum, or silver
Warm skin tones: yellow golds, rose gold, brass
Neutral skin tones: white and yellow metals
6. Assuming all jewelry is for women

Let's be clear - JEWELRY IS NOT FEMININE
In the world of jewelry, there are pieces that could be considered more feminine than others. However, to say that all jewelry is feminine is frankly not true. Let's look at some examples in history.
The Ring of the Fisherman, also known as the Pope's ring, serves as a symbol of power and authority within the Vatican and is used to seal official documents. 

Similarly, in ancient Egypt, pharaohs of the Eighteenth Dynasty would award wesesks, collars or necklaces, to officials, dignitaries, and soldiers as a sign of honor.

Today, many companies and organizations give watches as a retirement gift to recognize an individual's time and hard work on the job.

Additionally, military personnel hold their dog tags in high regard as a symbol of their service.

The origins of cufflinks can be traced back to the 1600s when British noblemen used ribbons to tie the cuffs of their shirts.

Male bracelets have a long history dating back to 3000 B.C., and were worn by warriors and shamans for protective purposes.
7. Not wearing jewelry that is proportionate to your body

When choosing jewelry, it's important to select pieces that are proportionate to your body size. For example, if you have a larger build, such as being 6'6" and 265lbs, it's best to avoid very thin bracelets that might be uncomfortable to wear. Similarly, if you have a smaller build, a watch with a very large bezel may not be the best fit.
Here are some general guidelines to keep in mind:
A wide neck would be complemented by a longer necklace

A wide wrist or big hands can handle larger watches or bracelets

Bigger rings look better on larger hands while smaller rings may be lost on larger fingers

For men with a smaller build, smaller jewelry will fit better
Keep in mind that there are no definite and concrete rules, but these guidelines may help you choose jewelry that compliments your body type.
Accessories such as jewelry can enhance a man's outfit just as seasoning enhances a steak. Not including them is like eating plain food, so adding the correct type and amount of jewelry can make all the difference in the look.
Avoid common mistakes by experimenting with different jewelry pieces and accessories to find what feels comfortable and works well with your style. Keep in mind that simple and elegant jewelry is a safe choice and generally a good guideline moving forward.
Last but not least, have fun accessorizing!